Kidzone has been in operation for 11 years and we have had great fun! It meets on a Saturday morning during term time from 10.30am to 12.00. We cater for children between 4-13 with singing, games, cooking, challenges and crafts. The morning ends with a relevant story or message. Special events are held a number of times during the year, such as parties, country fairs and tea parties.
There has been opportunity to go to 'Ultimate Kid's Camp' which is a Christian camp held once a year. A great time of fun, sports and challenges are had by all, both young and old!
All our helpers and teachers have undergone an enhanced DBS check and we are careful to provide training and support in line with the church's 'Safeguarding' policy.
For further information email: info@cpcparkstone.org.uk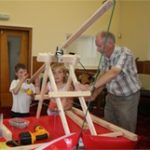 I LOVE COMING TO KIDZONE BECAUSE…
We get to play games and do art. I really love cooking because you can eat what you've made afterwards. Everyone is really friendly and nice, the other day I made a catapult.